Introducing my new Tiny Paper Art Collectibles
just in time for the holidays!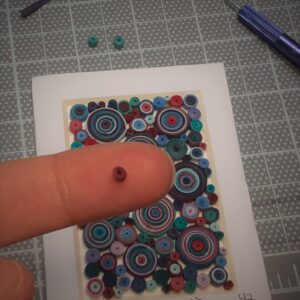 These tiny pieces of art follow the same production process and level of attention to detail I put into my larger pieces – just on a miniature scale. Each piece has a 2″ x 3″ footprint of work (finished framed 4″ x 5″), takes about 4 hours to complete, and is titled, dated and signed. Each frame is deep enough to stand on its own, but also comes ready to hang.
The miniatures are a great way to introduce art to a new collector during the holiday, fill that special someone's stocking, or can be a treat as a gift to yourself after a long day of holiday preparation!
I am introducing these pieces at the Artist Holiday Open House at Swanky! Interior Design Gallery on Thursday evening, December 8th. Join my mailing list and look for your invite!