Let me create with your story.
Art tells a story – whether the story is known before creating and is interpreted through the art, or a story unfolds during the creative process. I find inspiration in my client's story, what they are drawn to, and other elements within their home. Contact me to discuss how I can create your story in a piece of art to enjoy and share that is all your own.
Improvisational Jazz with Right Angles – Kansas City, MO 2023
This fun loving, energetic couple gave me free reign to fill a space in their stairwell to the main living and entertaining area of their multi-level condo.  My challenge: A 10-foot ceiling and multi-directional views of the wall that includes looking up to the piece as you are climbing the stairs, being close to the wall while reaching the landing, and looking down on the piece from above and to the side. This is not your standard gallery wall!
My solution: Five pieces in total to fill 72" of space top to bottom. Walking up the stairs, interest is immediately captured on the lower pieces, moving your eye upwards as you climb the stairs – keeping your attention as you ascend the stairs, forcing you to turn and see it from other angles as you move closer to the top of the staircase. Negative space is more visible as each piece is directly across from the eye, filling with more color as you move to lower or higher viewing areas – all giving the impression that the small colorful pieces are trickling down from the top all the way to the bottom.
Modern Heirloom – Mission Hills, KS 2023
I picked up on something special while meeting with my client. She had a unique story for so many pieces in her home. She appreciates each piece for its uniqueness or its history. I knew I could come up with something unique – but what about the FEEL of something with history or a story to tell? I started playing around with textures – trying to create something that would take on the appearance of a woven textile. The concept for this piece is a cherished heirloom – a scarf that has been handed down, showing worn edges and loose threads – preserved and framed to hang and appreciate in a quiet and reflective space.
Coastal Inflorescence – Mission Hills, KS 2023
I fell in love with this home the moment I stepped into it almost a full year ago for our initial meeting. My client and her designer have created a beautiful and comfortable home – full of warm and inviting finishes everywhere your eye takes you. My challenge was to create a pair of pieces that could stand on their own, yet blend with all the beautiful furnishings and art already chosen and placed. Before I even began, I knew these pieces were going to be something different than I've ever done. The result is a combination of soft colors and mixed paper techniques I have never combined until now. From the large cardstock-on-edge dahlias and peonies to the paper-cut roses, and the molded paper hydrangeas and hyacinths – the multiple layers all create shadow-play and interest under warm art lamps. I am so very pleased to create something unique that blends within a beautiful and cohesive space.
An Ethereal Existence: Overland Park, KS 2022
I typically gain inspiration not only from talking with a client, but from viewing other elements within the room where my piece will hang. But for this commission, I was presented with a completely empty room, a mood board, and the client's wish for me to create my idea of 'snowy mountains'. Oh my! I walked away from our initial meeting knowing this project was going to provide me with a very new experience. You see… when you make a piece for inventory, you have complete creative freedom. And when you make a commission, at least for me as a past interior designer, the room speaks to me, and I immediately start to see something develop for the space. This commission provided a completely different creative experience. Using layers of soft colors, and a mix of crimped and flat paper created mountains reflecting a sunset on a gusty day – framed with two layers of dark swirls.
Construct of a Stream: Kansas City, MO 2022
This abstract design of a bubbling stream brings a touch of nature into this modern urban home in the Westside neighborhood.
The clients were drawn to my more kinetic style to represent their love of reds, blues and purples. The natural maple on the back layer grounds the piece to the natural theme.
While getting lost in the details of this piece, you can almost see the water flowing over the pebbles and hear the slow trickle of cascading water.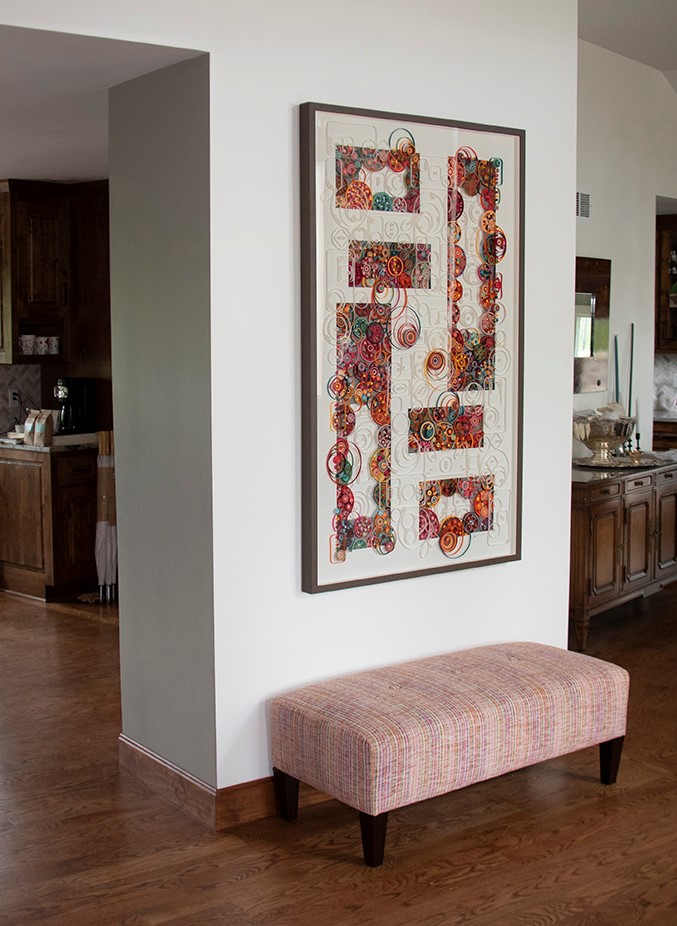 A Circus of Gears & Gerberas: Bonner Springs, KS 2021
She: Creative Contractor. A lover of all things colorful & whimsical. There are many ways to discover a solution. Favorite flower is the Gerbera Daisy
He: Engineer. Serious and steadfast. There is typically one solution. Favorite flower is whatever she loves.
Both: Full of life, playful in nature, steadfast in their passions, devoted to family.
Solution: A colorfully structured, 3-layered piece of art for the entry of their home that reflects them both.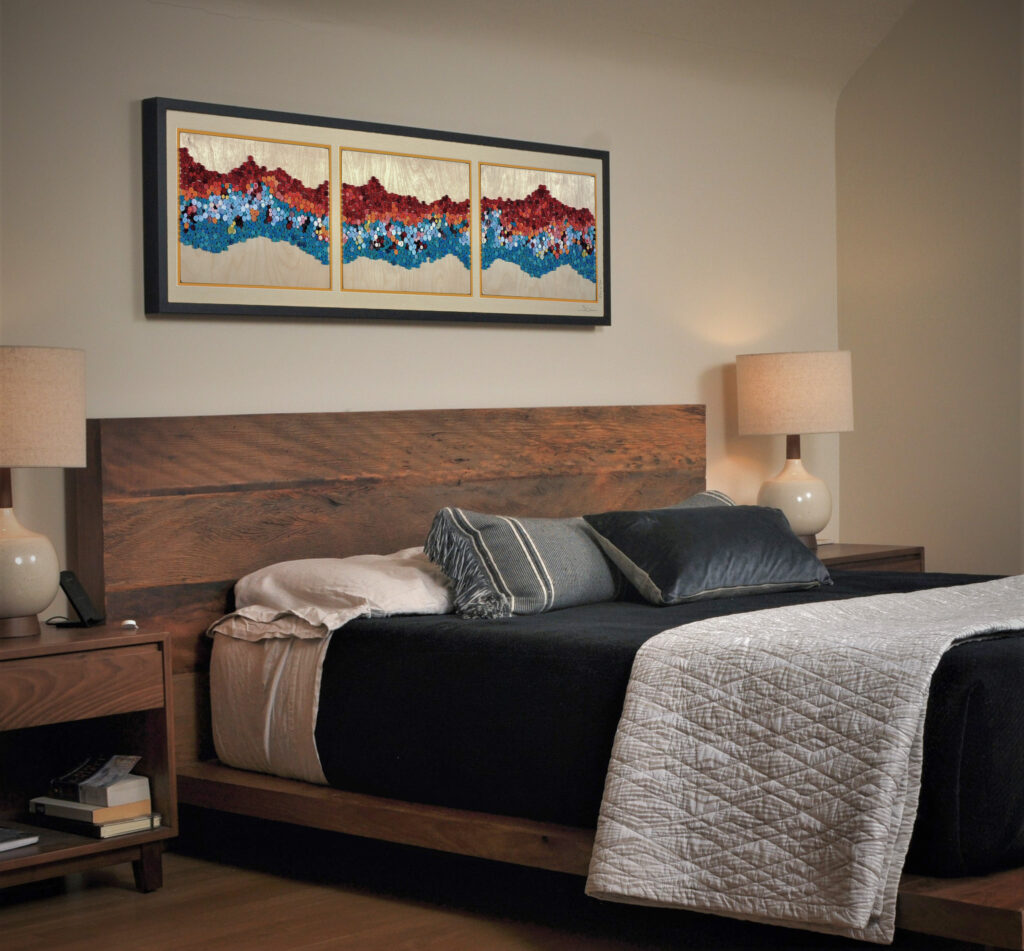 The Convergence of Water and Fire: Kansas City, MO 2019
Request: Create a custom piece to go over the bed in the master bedroom.
Solution: A fun and colorful piece with movement created by a double layer of quilled paper, applied to three maple panels. It is the story of how water and fire create steam!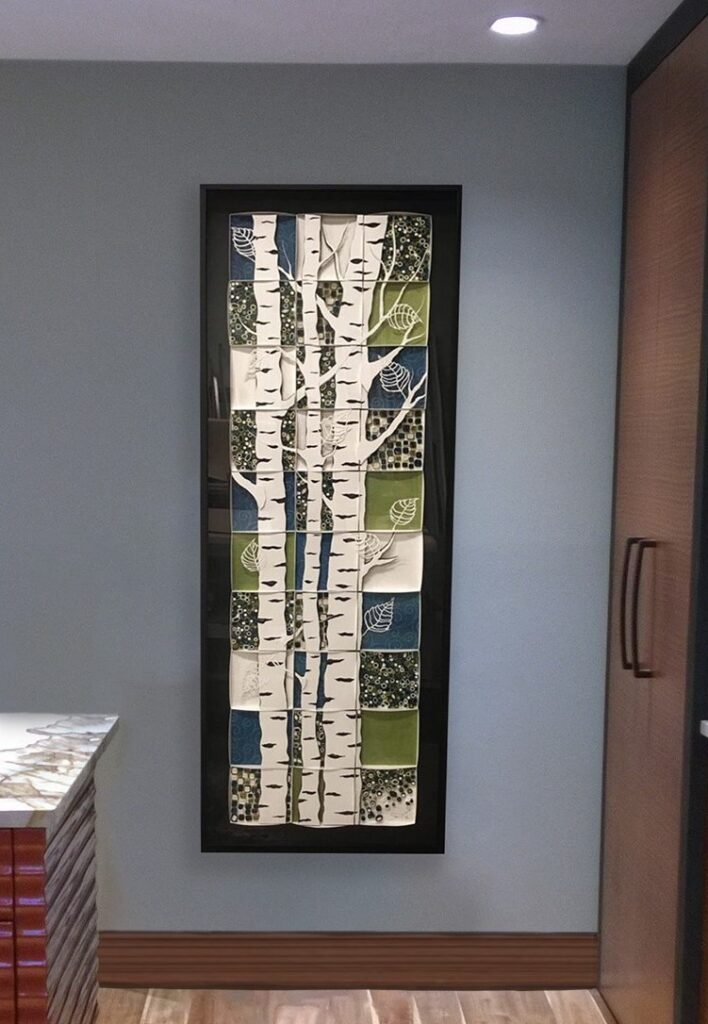 The Living Quilt: Springfield, MO 2018
It is every artist's dream to be given complete and total creative freedom when making a custom piece of art. This client gave me that opportunity – to develop something that reflects his story and his home. He had inherited his family home and was remodeling it to reflect his own personality. I worked closely with his designer regarding size, placement, and a color palette that would blend within the surrounding environment. The birch trees symbolize rebirth, new beginnings and growth; while the blocks honor the history of the home and the representation of passing it down from generation to generation, much like you would pass down a family quilt. It was an honor to be a part of his new and beautiful home.
Works in Progress
After wrapping up an extremely successful commission year in 2022, I am taking a short break from accepting commission projects in 2023 to focus on building other aspects of J. Dunn Studio, including more inventory! I will open my calendar up again very soon. Join my mailing list to be the first to know and reserve a spot on my calendar!