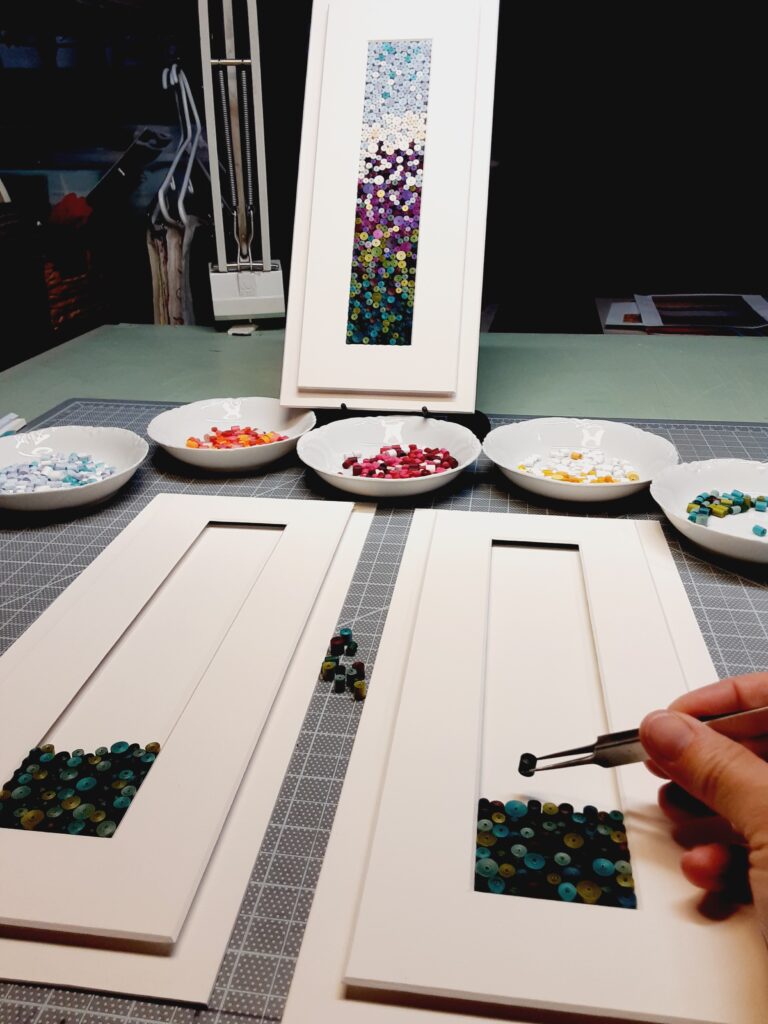 ARTIST STATEMENT
I have been honing my skills as a paper artist in Kansas City, MO, for over ten years.
During my career in business management and interior design, I found myself drawn to elements that are full of life, bold in color, and abstract in design that provide moments of study, reflection, and quiet consideration.
What started as repetitious exercises to quiet my left brain led to my current art form with paper. This technique marries my analytical and creative intellects with my love of 3-dimensional art including architecture, interior design, and sculpture. The results are detailed and colorful pattern structures, often abstract and whimsical in nature.
Inspiration comes from anything colorfully imaginative, the ancient paper art of quilling, and a continued quest to engage my creativity for effective problem solving. I am most inspired when presented with the opportunity to create a tailored, unique piece that embraces and combines a customer's personality to other elements within their home.
Now a full-time artist, I find strength in this fragile material, clarity in the repetition of technique, and peace in assemblage.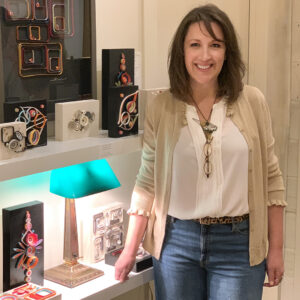 ARTIST BIOGRAPHY
Jana Dunn, a Missouri Native, currently lives and works in Kansas City, MO, as a full-time artist. Growing up on the family farm, she received early lessons in the appreciation of quality craftsmanship, a strong work ethic, and satisfaction of working with her hands.
After graduating from the University of Central Missouri with a degree in public relations, Jana began to discover her interest in well-designed surroundings while working for a subsidiary of Hallmark Cards, designing and implementing trade show environments within her role as sales and marketing manager. The personal satisfaction gained from this position led her to seek a degree in Interior Design from Pittsburg State University. Due to the distance traveled from home to university each day, she filled her free time between interior design studios with art courses in 3-dimensional media. It was in one of those courses she was introduced to American artist and academic Marjorie Schick. The opportunity to study under and work with such a successful and innovative artist is where Jana's intrigue with colorful, unconventional, 3-dimensional works of art was born.
Jana's unique mix of qualifications in business management coupled with her interior design education led her to a 16-year career with one of Kansas City's most long-standing, reputable design firms, Kitchens by Kleweno, Inc. Working alongside award-winning designers is where she honed her appreciation for design excellence within the company's philosophy of creating art for living. During her time as Kleweno's business manager, Jana began working with paper at home to busy her hands and turn off the business of the day. It was during these moments of creative reflection she realized just how much the artistic process aids in creative problem solving. Building on this realization nurtured her passion to develop her current art form of abstract quilling, and the creation of J. Dunn Studio LLC—an emerging business to develop ways to teach others how to turn off their analytical thinking and tap into creative problem solving through paper art.
Now a full-time artist devoted to her practice, she is a featured local artist at Swanky Interior Design Gallery, continuing her relationships with creative individuals who support design excellence. This representation is a perfect fit for her love of creating one-of-a-kind pieces marrying her customer's personalities with other elements within their home. Jana's works have been featured in Kansas City Symphony Alliance Designer Showhouses and the Kansas City Hyde Park Homes tour. Current inspiration comes from the development of pattern construct, the use of bold color palettes, nature's beauty, and a continued desire of using the creative process to tap into discovering whatever it is that wants discovering.